Meet my modern day family blend. The kids are his, mine and ours. Some people call us a blended family, Chuck and I decided that we weren't going to cause separation by using the word step, so they are just our kids.
Here we are en masse:
Bottom row:
Jordan, Rylee, Rorie, Zoe
Top Row:
Chuck, Talia, Me, Ashton
Talia Eve aka Tali or Doodles, is an 18 month old whirlwind. She is an Elmo loving, breastfeeding, dirt eating, perpetually naked baby. Tali is the biggest mommy's girl of the bunch and when she is not scooting chairs all over the house to climb up to forbidden counters, or climbing the rock wall, she is almost always an appendage.
Here she is right after a dirt snack.
Zoe Ellen, my feisty little red headed sprite, just turned three. Zoe loves gymnastics, styling everyone's hair and being outdoors. She is exgtremely articulate and concise. My lastest favorite Zoeism is, "When I get bigger, I am going to grow boobies to nurse Tali, drive a car, drink coffee and say shit."
This is Zoe at her Nana's wedding.
Rorie is the cuddliest of the bunch. She turned seven in June and we had a party at the splash park for her. She loves the pool and the park. Rorie is very athletic and her favorite outside activity is the monkey bars. Rorie is definitely the happiest kid we've got.
Here she is after we went to the Botanical Gardens.
Rylee is eight and loves to read. I am constantly catching her in her room at all hours of the night sneaking a book. Rylee is a great cook and she loves to cook and take care of the babies (Zoe and Tali). She is uber smart and loves school. Rylee is another cuddle bunny, especially with big brother Ashton.
Here she is taking a self-portrait.
Jordan will be turning 15 in September and she is starting high school next week. She loves her sisters and takes them into her room and gives them makeovers. Jordan is an avid writer and her latest novel is an amazing vampire story that I am going to try to get published for her.
Here she is.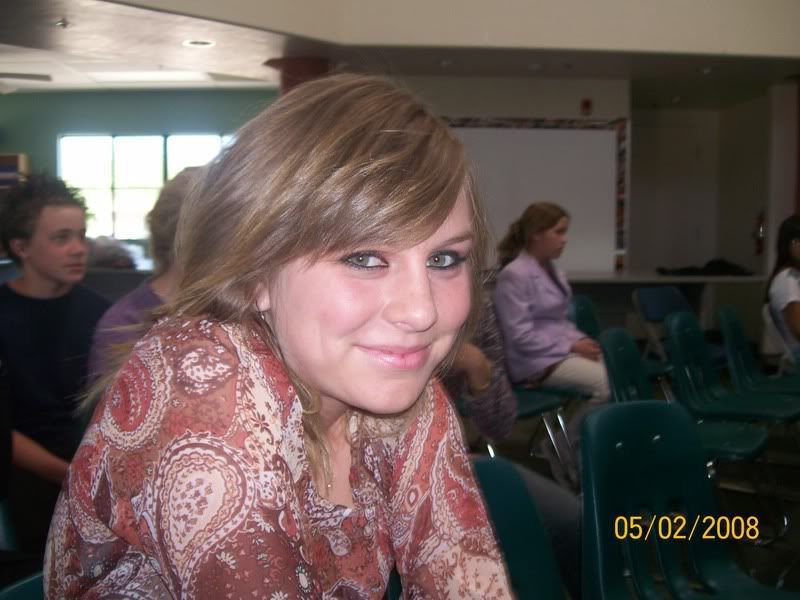 Ashton, our oldest child and only son, will turn 16 is a few weeks! He loves dirt bikes and that Screamo music. He is the object of his sister's affection and he dishes it right back. Ashton cannot sit on the couch alone, one of the girls always wants to cuddle with him.
Since I can't get him alone, here he is on the couch with Rorie.
Together with a dog named Ozzy, Zoe's fish she named Fluffy and Rylee's frog named Fredrick, we live in Tucson, AZ.